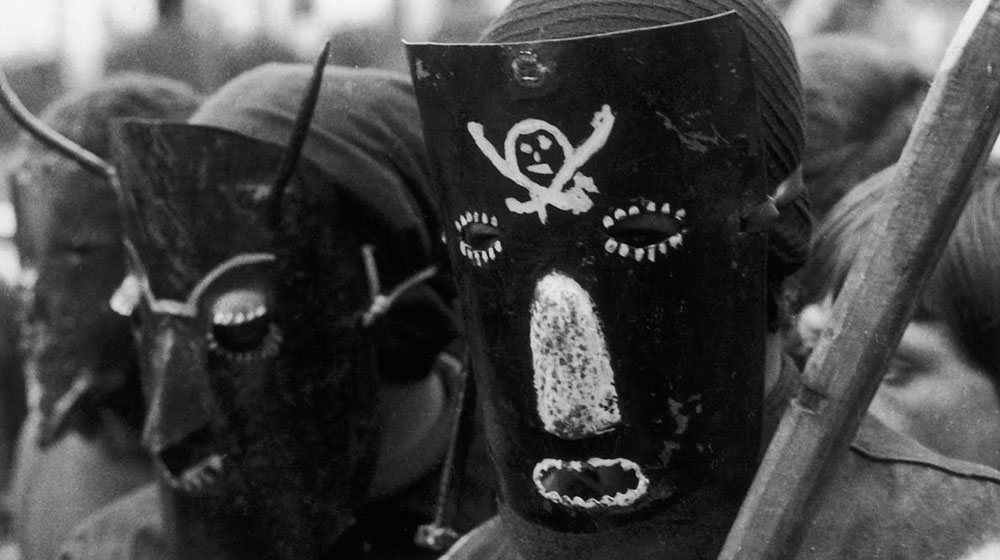 Xcèntric 2020
Masks. Noémia Delgado
Audiovisuals
Máscaras (1976), by Noémia Delgado, is a pioneering work that crosses ethnographic cinema with elements of fiction. Inspired by various works of anthropology, the filmmaker documents festivals and rituals in the Portuguese region of Trás-os-Montes, ancient traditions of the so-called winter cycle, celebrations of pagan origin that evoke the solstice, coming of age and the different cycles of life. But the masked rituals were just a pretext to show aspects of life in this region, where ancient uses and unique sociocultural traits remained unchanged.
Like Manoel de Oliveira, António Reis and Margarida Cordeiro, António Campos and João César Monteiro, Noémia Delgado set out to portray this relatively isolated, unknown rural world, forgotten even by the Portuguese dictatorship. Accordingly, Trás-os-Montes became a mythical territory for Portuguese cinema. The films made there, like the one in this session, were an act of resistance and shaped some of the most radical cinematographic experiences of the new Portuguese cinema.
Despite making few films, Noémia Delgado (1933-2016) is an essential name in Portuguese cinema, with which she was associated as of the sixties. She worked as a film editor on Mudar de vida (1966), by Paulo Rocha, O passado e o presente (1972), by Manuel de Oliveira, and Torre Bela (1977), by Thomas Harlan, among others. For some time she was production assistant to Jean Rouch and was one of the founders of the Portuguese Film Centre. In the eighties she also made several documentaries and series for television, though her best known work is Máscaras.
Máscaras, Noémia Delgado, 1976, 16 mm, 110 min.
Catalan subtitles. Copy courtesy of Cinemateca Portuguesa.
A programme by Celeste Araújo and Oriol Sánchez.
You might also be interested in