Cultures d'avenir
A European learning and exchange program
Education
Centre Pompidou in Paris, Haus der Kulturen der Welt (HKW) in Berlin and Centre de Cultura Contemporània de Barcelona (CCCB) are launching the second edition of Cultures d'avenir. The program is made possible with the support of the Franco-German Youth Office (FGYO).
During a six-month period of learning, exchange and networking the program invites young artists to rethink the way of how artistic practice addresses and intersects with societal issues. To sustain these values, the three international art institutions are collaborating together with a critical thinking and experimental inquiring commitment while providing their structural support and knowledge.
In response to environmental emergencies, gender and inclusion politics, as well as the urgent need to deepen decolonial strategies, the theme of this edition will focus on the following questions: How can community art and collaborative artistic practices address these needs for a future sustainable development? How does this anticipate the possibility of a viable and ecologically sustainable future for all members of society?
Purpose
The four institutions will therefore create an international network of 15 young artists from diverse disciplines, ranging from theater and dance to visual arts and architecture. For six months, they will be sharing their projects with other artists, reflect upon their own work and learn and essay new creative paths. This collective process of learning is accompanied by the support of a large group of experts and three mentors who will help them reflect on how their artistic approach can be put into practice in a most fruitful way. In addition to discussions in the digital space, the program offers the opportunity of travel exchange for three spring workshops taking place in Berlin, Barcelona and Paris in 2023.
What the program offers
On-site workshops will be held in Berlin (February 11-15, 2023), Barcelona (April 25-29, 2023) and Paris (June 20-24, 2023). In addition, the 15 selected candidates/artists (five from each geographic location) will be accompanied by mentoring sessions guided by specialists in the thematic area addressed, chosen by each institution and advised throughout their creative and reflective process.
Travel expenses will be covered by the organization. Participants agree to be available for the dates mentioned. Online discussions will follow after the physical events to further explore the issues tackled on site.
Reviewing process
A team of experts in the field of community practices and representatives from Centre Pompidou, HKW and CCCB will evaluate all the applications anonymously. A group of 24 Participants (8 for each geographical location) will be selected for a personal interview with the members of the Jury.
Communication to the selected participants and personal interviews will run from November 21st to November 24th. The results of the final selection will be communicated by email to the selected Participants on November 28th.
Closed call for applications
You might also be interested in
Science and creation for secondary schools with the Center for Brain and Cognition (UPF) and Escola JOSO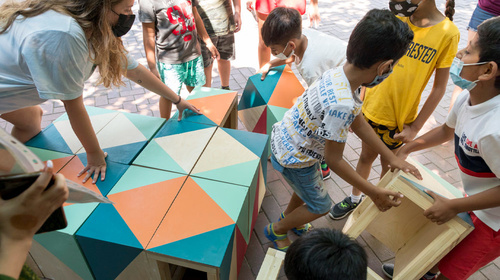 A community project with children and young people from the Raval
Education and culture in the Raval neighbourhood