After the news. Postmedia documentaries
Accompanying film cycle "After the news. Postmedia documentaries"
Audiovisuals
Free
Screenings to coincide with the exhibition After the news. Postmedia documentaries.
As part of the exhibition, every Saturday at 6 p.m. and every Sunday at 1 p.m., the CCCB will be showing, on the Foyer screen, the video 4 Days in May, Six Months after the Prestige, a series of images and interviews explaining the situation in the north of Galicia, six months after the accident.
4 DAYS IN MAY, SIX MONTHS AFTER THE PRESTIGE
Directors: Juan Carlos Alcalà, Fabrizio Bernardi, Jan Codina, Patricia Gelpi and Ismael Otero, 2003. 90 minutes
Support: minidigital video
Filming: 1-4 May 2003
Editing: 5-28 May
Produced by: El tronco de Senegal (eltroncodesenegal@nodo50.org)
With the collaboration of: Marea humana, Las máximas and Laboratorio 3.

24 SEPTEMBER - SAINT'S DAY OF BARCELONA'S PATRON, LA MERCÈ
OPEN-DOORS DAY
Two more screenings to coincide with the exhibition:
Screening at 12 noon
GOIERRI KONPETI
Directed by Iñaki Garmendia and Asier Mendizabal, 2002, colour video. 55 min.
Goierri konpeti is a video. Goierri konpeti is the self-given name of a group of young people whose friendship is based around cars. As a name it does not refer to any specific activity, though it does refer to competition. They insist on remembering the surroundings in which they live. Goierri is an industrial rural region in the Basque Country without a city; it is made up of scattered municipalities around a conurbation of larger villages. The interpersonal relationships of these young people and the codes that govern them are presented as a part of this landscape that both conditions and contextualises their behaviour in a process of feedback that directs the narrative.
Screening at 6 p.m.
DE L'AUTRE CÔTÉ
Directed by Chantal Akerman, 2002, 103', Catalan subtitles
After looking at Eastern Europe in D'Est (From the East, 1993) and a race riot in Sud (South, 1999), this Belgian film-maker now addresses the Mexico-United States border, a place of transit for a Mexican population living in precarious conditions and dreaming of a better future on the other side. Long travelling shots allow Akerman to follow this imaginary line that has such a dramatic effect on the lives of so many.
This film is Chantal Akerman's contribution to the exhibition After the News. Postmedia Documentaries.
You might also be interested in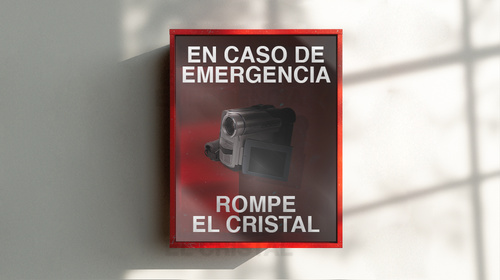 A talk with Dean Luis Reyes plus a screening of "Option Zero" (La opción cero)
Monthly film forum sessions at Xcèntric Archive