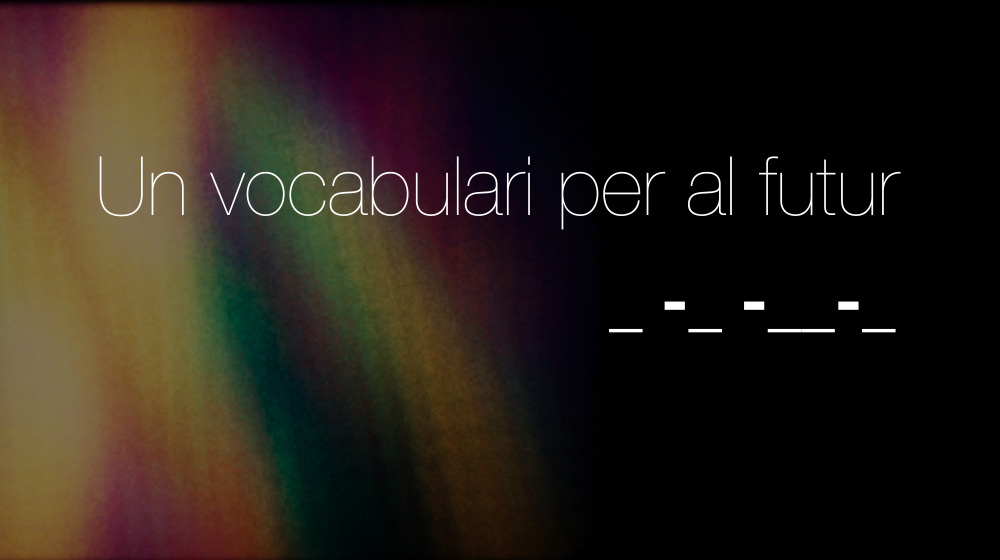 Biennial of Thought
A Vocabulary for the Future
Continuous screening
Audiovisuals
Free
"A Vocabulary for the Future" is an audiovisual creation project produced for the Open City Thinking Biennale. It is composed by 14 original short films, created from the dialogue between thirty filmmakers, visual artists, writers and thinkers, both local and international. The project attempts to generate an incipient vocabulary of another possible future, a first map for exploring exits from this damaged present.
During the Biennale, there is a continous screening of the "Vocabulary" at the CCCB Hall.
Participants: Blanca Rego, Karen Barad, Carla Simón, Marta Marín-Dòmine, Artur Tort, Dostopos, Mircea Cărtărescu, Irene Moray, Koleka Putuma, Gerard Ortín Castellví, Bruno Latour, Cadhla Kennedy Ko, Xisi Sofia Ye Chen, Yan Lianke, Pepon Meneses, Laura Ginès, Raül Garrigasait, Carolina Astudillo, Juan Mayorga Ruano, Diana Toucedo, Ingrid Rojas Contreras, Emilio Fonseca, Xiana do Teixeiro, Stefano Mancuso, Isaki Lacuesta, Nona Fernández, Andrés Duque, José Luís Peixoto, Laida Lertxundi, Rosi Braidotti
This activity is part of Open City Thinking Biennale 2020, A Vocabulary for the Future, Biennial of Thought
Related contents
Lisa Appignanesi and Neus Ballús
An audiovisual work created by the writer Lisa Appignanesi and the film director Neus Ballús which is part of the project "A Vocabulary for the Future". Attention, if you pause to think, is not really all that far from love. What is it to hold someone dear but to be attentive ...
Sophie Collins and Raimon Fransoy
Think about silence and all it implies. But think—now, quickly—about words and meaning. About words and meaning and metaphor. About words and deception. About how metaphor—or any kind of figurative language—might, in fact (and often inadvertently), lead to a kind deception. ...
You might also be interested in
Cinema for all the family
Masterclass at the Xcèntric Archive