Event
From 12 midday to 11 p.m.
ZOOMVI. Festival of Video Clip Artists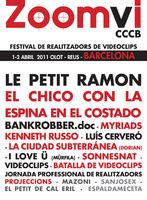 Enlarge image
The video clip is a tiny oasis, a unique environment where risk and experimentation are seen as a stimulus and an attraction. This is the reason behind ZOOMVI, a festival directed at creators and fans of this format which is now at its peak, thanks to the Internet and the popularization of ICT. For two days at the CCCB, Reus and Olot, the video clip ceases to be a supporting actor and becomes the star of the show.
Programme
Screenings, Battle of the Video Clips, New Formats, Bankrobber.doc, Luís Cervero
La Ciudad Sumergida (Dorian), I Love Ü (Murfila), Kenneth Russo, Atleta, Le petit Ramon/El Chico
Professional sessions
Zoomvi
More information: www.zooomvi.net