Event
Thursday 14 January, 20:00
Welcome to the Secret Society (I)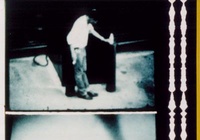 Enlarge image
This programme addresses the concept of the fantastic, conceived as an exploration of a reality that is frequently perceived as dark and disquieting. The first session centres on phantasmal spaces and offers little-known contributions of great directors of experimental film (Brakhage, Ito, Mattuschka), and works by young artists (Prim) or more underground but no less important figures (Dabernig, Worden).

Introduction to the Secret Society, Fred Worden. 1992, 16 mm, 7 min.
Creamy Krimi, Isabelle Prim. 2007, 16 mm, 10 min.
Zone, Takashi ITO. 1995, 16 mm, 12 min.
Part Time Heroes, Mara Mattushka and Chris Haring. 2007, video, 33 min.
Jogging, Josef Dabernig. 2000, 35 mm, 11 min.
Murder Psalm, Stan Brakhage. 1981, 16 mm, silent, 17 min.
Participants

Director:

Themes