Event
Wednesday 22, 20.55h, and Friday 24, 17.25h.
Une charogne [Premiere]
Olivier Berry, Alexia Cui, Olivier Sipesaque and Samuel Chung-Hao Tung, France, 2006, 4', OV.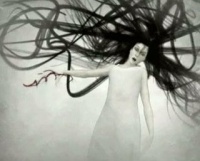 Enlarge image
The students of the Supinfocom animation school make a 3D adaptation of Charles Baudelaire's poem of the same name from The Flowers of Evil. Expressionist at its roots, the story is recreated on a base of electronic music, making a visual interpretation of the last verse.