Event
This month, Virgínia García del Pino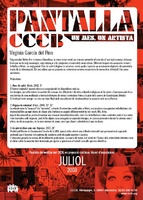 Enlarge image
This month Screen at the CCCB present Virgínia García del Pino.
I studied Fine Arts and Cinema in Barcelona, my home town, in an attempt to understand the world from a less painful perspective. When didn't achieve this, I begun to ask questions through my videos. Various grants took me to Mexico, where I produced Pare de sufrir and Hágase tu voluntad, in which we can see an approach to the documentary genre through video creation. The three videos I am presenting are centred on what is a recurring theme in my work: work and its paradoxes.
Projections:
1. Pare de sufrir. Mexico, 2002, 5'
The original format of this video was a slide show with sound.
The images, which reflect the consumer society, the difficulties and the cultural and religious traits of the city, are mixed with sound: a mixture of voices created by using readings of texts and interviews with people in the street in Guadalajara (Mexico).
The feedback between image and sound creates a fluid rhythm which aims to dedramatize the narrative with touches of humour.
2. Hágase tu voluntad. Mexico, 2004, 22' 32'
The relationship between the "lady" and the "servant", through various interviews carried out in Mexico, show how these workers are necessary in order for women of higher social classes to be free and at the same time have everything: a husband, children, and a job.
This documentary does not intend to denounce an unfavourable social situation; all the workers are happy with their salary and they are treated with respect, but there is something hidden in these images, which can be perceived in how they act in front of the camera, their gestures, their way of sitting, what they say and especially what they don't say.

3. Lo que tú dices que soy. Spain, 2007, 28'
Produced for the Masters in Creative Documentary at the UAB, this video offers a reflection on what a profession means for the person carrying it out and the patterns of conduct with which it is associated.
The obsessive carrying out of different professions, like a kind of theatre production, and the sense of humour of the interviewees in this film aim to sew a doubt about the veracity of the testimonials to help us to question work as that which identifies us.
Participants

Director:

Themes