Event
This month, Marianela Vega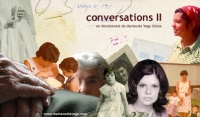 Enlarge image
Pantalla CCCB and Una Cosa Normal Producciones presents the work of Marianela Vega Oroza (Lima, 1978), Bachelor in Audiovisual Communication from the Pontificia Universidad Católica in Peru and currently pursuing an MFA in Film Production at the University of Texas at Austin, USA. Marianela Vega presents part of her work that takes the documentary genre as its departure point to produce a hybrid between documentary and video creation. A personal, intimate approach to issues of memory and identity is a constant in her work, which has been shown at a number of international festivals in Peru, USA, Spain and Ecuador.
Films
Away, USA, 2002, 12'
This film combines cartoons with video in the form of a personal diary which explores the internal process involved in adapting to an unknown place, and the thoughts, feelings and conflicts that emerge.
Ausencia, Peru, 2002, 43'
One is left with a feeling of emptiness after the death of a loved one. In this film, this emptiness is materialized into a space where we get to know Jorge, Verónica and Amalia, their stories and those they have lost. Through the relating of their stories, the empty feelings begin to disperse.
Conversation, USA, 2005, 6'+ Conversation II, USA, 2007, 15'36'
In the first film, the author establishes a long distance conversation with her mother through video tapes which her mother sends. It is an intimate dialogue between mother and daughter, in which past decisions, present fears and future expectations are revealed.
The second half continues exploring, this time on subjects such as feminine identity, marriage and motherhood, with the testimonials of women from different generations within a same family. Grandmother, mother and daughter contrast ideas of themselves, their fears, their plans for the future and how society has influenced their lives.
General information
Space at the CCCB
Hall
Venue: Centre de Cultura Contemporània de Barcelona (CCCB)
Montalegre, 5. 08001 Barcelona. Tel. (+34) 93 306 41 00. http://www.cccb.org/now/ang
Dates: 29 November - 1 December 2007
Times:
Thursday, November 29, open from 5 to 9.30 pm
Friday, November 30 and Saturday, December 1, open from 11 am to 10 pm
Free admission to all activities
Advance registration for workshops: Tel. (+34) 93 306 41 35. Email: seducatiu@cccb.org.
The CCCB reserves the right to change the programme due to reasons of force majeure.
Within the framework of Anella Cultural project, the following entities are participating in NOW: the Institut Municipal d'Acció Cultural in Lleida; the Museu de Granollers in Granollers; the Teatre Principal in Olot and the Centre d'Art Cal Massó in Reus.
Credits
Organizer

Centre de Cultura ContemporÓnia de Barcelona, Una Cosa Normal Producciones