Event
Saturday 3rd: 7.45 pm.
Sunday 4th: 5.25 pm.
The term
Elizabeth Lewis, Canada, 2003, 2', VO.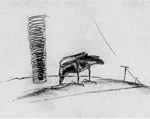 Enlarge image
An animated adaptation of the poem The term by William Carlos Williams, a member of the "Imaginist" movement founded by Ezra Pound. The director chose this poem because of the power of its images, drawn in pencil on paper while an off-screen voice recites the text.
Participants

Director:

Themes