Event
Saturday 01 December, 17:00
The Corporation, 2004, 145', VOSE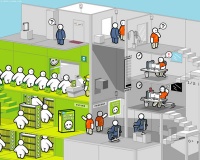 Enlarge image
Directed by Mark Achbar and Jennifer Abbott, 2004, 145', VOSE


Based on Joel Bakan's book The Corporation: The Pathological Pursuit of Profit and Power , this documentary makes a compelling analysis of the dominant institution of the 21 st century. The film puts the corporation on the psychiatrist's couch, diagnosing the basic characteristics of this obviously "sick patient": lying for profit, seeking maximum benefits, a lack of conscience. Through interviews with the likes of Noam Chomsky, Vandana Shiva, Michael Moore, Naomi Klein, Milton Friedman and over 40 professionals, The Corporation explores the real workings of the pharmaceutical industry and large media groups. The documentary has won more than 26 awards and was produced with the support of educational associations, alternate media and the voluntary participation of those interviewed.
The Observatori de Resistències i Subcultures (RiSc) which has started projects like "Malababa" and whose work is based on counter-advertising and graphic dissidence presents the documentary film.
Themes

Space at the CCCB

The Auditorium
General information
Space at the CCCB
The Auditorium
Venue: Centre de Cultura Contemporània de Barcelona (CCCB)
Montalegre, 5. 08001 Barcelona. Tel. (+34) 93 306 41 00. http://www.cccb.org/now/ang
Dates: 29 November - 1 December 2007
Times:
Thursday, November 29, open from 5 to 9.30 pm
Friday, November 30 and Saturday, December 1, open from 11 am to 10 pm
Free admission to all activities
Advance registration for workshops: Tel. (+34) 93 306 41 35. Email: seducatiu@cccb.org.
The CCCB reserves the right to change the programme due to reasons of force majeure.
Within the framework of Anella Cultural project, the following entities are participating in NOW: the Institut Municipal d'Acció Cultural in Lleida; the Museu de Granollers in Granollers; the Teatre Principal in Olot and the Centre d'Art Cal Massó in Reus.