Event
Super 8, Little big format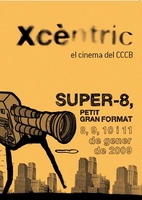 Enlarge image
Screenings, installations and concert.
The section Super 8, LITTLE BIG FORMAT, which takes place at the auditorium and main foyer of the CCCB from 8 to 12 January, offers for the first time in Spain MOBILESKINO (Basel) and LOS SUPEROCHEROS (Amsterdam). The young Swiss group Mobileskino will install their surprising interactive games fully developed in Super 8. Los Superocheros offer a music performance that integrates Super 8 orphan films in a show that has been designed especially for Xcèntric.
Screenings of Super 8 films by classic and new filmmakers at the auditorium of: Helen Hill, Claudio Caldini, Jan Kounen, John Porter, Joseph Morder, Dónal Ó'Céilleachair, Stan Brakhage, Daniela Cugliandolo, Chris Kennedy, Kika Thorne, Colas Ricard, Martin Gracineau, Jürgen Reble, Peter Tscherkassky, Derek Jarman, José Ernesto Díaz-Noriega, David Domingo, Juan Bufill, Virginie Manuel, Eugeni Bonet, Marcel Pey, Oriol Sánchez, Albert Alcoz, Maximiliano Viale, Eugènia Balcells, Pere Ginard, Laura Ginès, Manuel Huerga, Ernesto Baca.
Screens at the main foyer of the CCCB: "Scopitone", "Marató S-8" and "Open Screen".

Programme Auditorium
Thursday 8th, 8 p.m.
International scene
Formal experiments by a selection of foremost international filmmakers.
Madame Winger Makes a Film: A Survival Guide for the 21st Century, Helen Hill. Ofrenda, Claudio Caldini. Gisele Kérozène, Jan Kounen. Firefly, John Porter. Les Sorties de Charlerine Dupas I: L'été, Joseph Morder. With Wind and White Clouds, Dónal O'Céilleachair. Trio, Stan Brakhage. Alicia, Lewis Carroll y el tiempo, Daniela Cugliandolo. 4x8x3, Chris Kennedy. October 25th and 26th, Kika Thorne. Tandem: faux-raccords, Ricard Colas and Martin Gracineau. Stadt in Flammen, Jürgen Reble. Tabula rasa, Peter Tscherkassky.

Friday 9th, 9 p.m.
Derek Jarman
In super 8, Derek Jarman found an ally for his freest films.
Screening of In the Shadow of the Sun, plus the short film T.G.: Psychic Rally in Heaven.
Saturday 10th, 8 p.m.
Ernesto Baca
Samoa, Ernesto Baca, 2005, 64 min
Sunday 11th, 6.30 p.m.
Formal experiments by a selection of Spanish filmmakers.
El cine amateur, José Ernesto Díaz-Noriega. Súper 8, David Domingo. Arena, Juan Bufill. La Boucle, Virginie Manuel. Photomatons, Eugeni Bonet. Bloodfilm, Marcel Pey. Fragmentos, primera impresión en S8, Oriol Sánchez. El Jurado, José Ernesto Díaz-Noriega. Psychedelic Light Show, Albert Alcoz. Copy Scream, Oriol Sánchez. 22arroba, Maxi Viale. For / Against, Eugènia Balcells. Dramatis Personae, Pere Ginard and Laura Ginès. Brutal Ardour, Manuel Huerga.

Other activities in the foyer
8, 9, 10 and 11 Desember, 6 to 10 p.m. (Free admission)
Mobileskino: High Noon & other games
Interactive games in super 8 with the aesthetics of the first video games. The works in this installation fall between digital and analog, professional and amateur. They have been shown at art galleries and film festivals, and are now going public in Spain for the first time.

Scopitone Screen
From the first musical mini-films to the latest video clips filmed in super 8.
Super 8 Marathon
Souvenir, Manuel Huerga, 1985, 65 min
En la ciudad, various filmmakers. 1977, 60 min,
Glitterbug, Derek Jarman, 1994 60 min
Selection of short films by filmmakers such as Pablo Morales, Pere Ginard and Laura Ginès, and Ignasi Julià.
Open Screen
Bring your reels! Home and art-house movies screened in super 8. Open house.

Saturday 10th, 9 p.m.
AUDIO VISUAL SHOW. Los Superocheros Pinchapelis extraordinarios
Artists Jonathan Brown (Amsterdam) and Daniel Perillat (Empordà) accompany their found footage screenings with some live music, composed especially for the occasion.
Not recommended for under 18!!
Credits
Organizer

With the collaboration of

Revista Butxaca, Maumaubarcelona.com

Other credits:

Pro Helvetia. Schweizer Kulturstiftung.