Event
Saturday 3rd: 5.20 pm.
Sunday 4th: 11.20 am.
Street of crocodiles
Brothers Quay, United Kingdom, 1986, 20', SD. (35 mm.)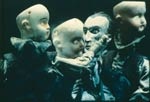 Enlarge image
Loosely based on the novel Street of Cocodriles by Polish writer Bruno Schulz, one of the most singular mideuropean authors who's work, brief but intense, has been compared to Franz Kafka's.
Participants

Director:

Themes