Event
Wednesday 23 January, 19:30
SPECIAL SCREENING: Pre-estrena de MAPA (Elías León Siminiani, 2012)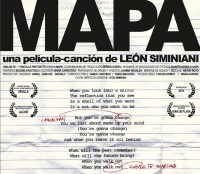 Enlarge image
Barcelona's premiere of the latest film by Elias Leon Siminiani, Mapa. Two days before its commercial release, its film director, whose previous shortfilm was included in the series "From Ecstasy to Rapture", is back to Xcèntric to present his first feature film. The session will be attended by Xavier Pérez, professor of Audiovisual Communication at the UPF and there will be a Q&A with the director after the screening.


Mapa, Elias Leon Siminiani, 2012, 85 min

/ Synopsis / A young Spanish director is fired from his job in television. Taking up his dream of making films, he travels to India to "find" his first feature only to discover that his real investigation is not in India but in Madrid, where he was running for. However, when he gets home, things do not turn out exactly as he had expected...


Halfway between documentary and fiction, Mapa is a road movie in first person, as defined by its author, a "movie-song".