Event
Saturday 05 March, 18:00
SOY CÁMARA. The CCCB's Programme (8)
# La música del CCCB (Music at the CCCB)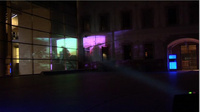 Enlarge image
Next Saturday, March 5th, at 6 pm, the new episode of SOY CÁMARA – EL PROGRAMA DEL CCCB (I'M A CAMERA - THE CCCB PROGRAM), second season, will be aired on Spanish Television's Channel 2, "La 2".
This episode of "Soy cámara" will take you through the CCCB's different spaces to reveal how it acts as a generator of creation, a meeting place and a soundboard for the country's changing musical scene.
For over 15 years now, the CCCB has hosted a number of important music festivals –Flamenco Ciutat Vella, Sónar, Zeppelin, Hipnotik and the BCNmp7 sessions– that have gradually become consolidated, emerging as focal points of great musical influence. The CCCB has also been very receptive to the vibrant national scene and the emergence of new local groups, which it has welcomed on the stages of each of its festivals.
The episode presents the CCCB as a space for increasingly intense musical feedback through visual games generated without postproduction, which have become a metaphor of how the CCCB reflects music and how music reflects the CCCB.