Event
Saturday 05 February, 18:00
SOY CÁMARA. The CCCB's Programme (7)
# Ética (Ethics)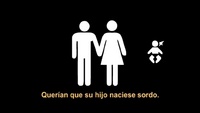 Enlarge image
Next Saturday, February 5th, at 6 pm, the second episode of SOY CÁMARA – EL PROGRAMA DEL CCCB (I'M A CAMERA - THE CCCB PROGRAM), second season, will be aired on Spanish Television's Channel 2, "La 2".
This episode addresses the need for public debate on ethical issues in order to draw a clear roadmap for scientific progress, today governed by economic interests and goals that often have nothing to do with collective health or the common good.
This program revolves around an interview with Michael Sandel, a Political Philosophy professor at Harvard University, and the conference he gave at the CCCB entitled "Against Perfection", on the topic of one of his latest books, The Case Against Perfection: Ethics in the Age of Genetic Engineering (Belknap Press, published in Spanish as Contra la perfección. La ética en la era de la ingeniería genética by Marbot Ediciones). Sandel not only participates in debate, but he is a true expert in sparking it. The episode ends with the statement: "thinking is dangerous, but not thinking is even more so."
A TV program directed by Andrés Hispano and Félix Pérez-Hita based on the activities and archives of the CCCB.
After the initial broadcast on TV, the programme will also be available for viewing on the websites of 2 TVE and the CCCB.