Event
SOY CÁMARA. The CCCB's Programme (4)
Violence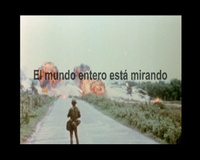 Enlarge image
This 20 November 2010 sees the broadcast of the fourth chapter of SOY CÁMARA [I'm a Camera] on TVE's La 2 channel, at 7.30 p.m., dealing with conflicts in the contemporary representation of violence and the way images make up a narrative of reality. "If the 20th century was the century of images, the 21st promises to be that of the people who appear in them", say Andrés Hispano and Félix Pérez-Hita. As usual, the programme is based on archive material of the CCCB and, on this occasion, it features a debate on the subject with Judith Butler, Michela Marzano, Carles Guerra and Joan Fontcuberta.
Schedule of the programme on TVE's La 2 channel:
20 November at 7.30 p.m. (Premiere)
21 November at 2.00 a.m. (Saturday night/Sunday morning)
24 November at 12 midday (Wednesday midday)
You can also see the programme on the websites of 2 TVE and the CCCB.