Event
Screening on TVE's La 2 channel of a new episode of Soy Cámara. El programa del CCCB
Duration: 28 min.
SOY CÁMARA. The CCCB's Programme (26)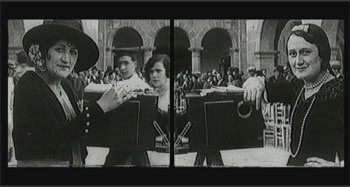 Enlarge image
This episode of Soy Cámara. El Programa del CCCB sets out to explore the appeal of this conflictive area, popular neighbourhoods and the underbelly of the city, based on the exhibition "Paral·lel Avenue, 1894-1939" which runs at the CCCB until 24 February 2013.
The exhibition considers the importance of the most modest and conflictive districts to the construction and projection of many cities, as reflected in the cinema of the first half of the 20th century. It presents the role of women in the district, present not just in shows but also in the prostitution of street and brothel for which the area enjoyed dubious international fame. Consequently, the programme also explores the female body as an object of desire, the ultimate merchandise served by the performing and musical arts.
The central argument of the episode, directed by Andrés Hispano and Félix Pérez Hita, is that the essence of modernism was forged in lowly yet dynamic districts, often on the fringes of the law and good taste. Contributing to the programme are the exhibition's curators Xavier Albertí and Eduard Molner, amateur filmmaker Carles Barba and film critic Àngel Quintana.