Event
SOY CÁMARA. The CCCB's Programme (13)
# El mundo de Gao Xingjian (Gao Xingjian's World)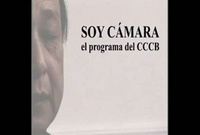 Enlarge image
27'46''
Next Friday 30 September (at 7.30 p.m. in Catalonia and at 8 p.m. in Spain), TVE 2 is broadcasting another chapter of Soy cámara, el programa del CCCB, entitled "El món de Gao Xingjian" (The world of Gao Xingjian).
This is a special programme devoted to Gao Xingjian, the Chinese writer, painter and playwright, and 2000 Nobel Prize for Literature. In 2004, a team from the CCCB went to Paris to interview Gao Xingjian in his home, where he spoke about his childhood, his early contact with literature and painting, and his working process: free narrative, art of the instant, Zen spirit and the concept of beauty.
This interview was presented at the exhibition "The World of Gao. A Visit to the Plural Work of Gao Xingjian", organized as part of Kosmopolis, the Amplified Literature Fest (2004).
The programme was directed by Juan Insua.