Event
SOY CÁMARA. The CCCB's Programme (1)
# Pilot programme. Chapter 1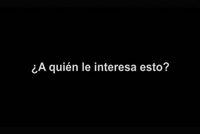 Enlarge image
The first programme of SOY CÁMARA is based on the Centre and three of its activities, which we interlink.
We present the Centre's outward appearance, its façades, its innards and its setting. We also evoke the popular nature of the neighbourhood in which it stands.
The three activities included (two exhibitions, "Gangs of the 80s" and "The Jazz Century", and the Hipnotik concerts) are interlinked, serving to consider the way in which the "cultures" that emerge on the fringe become the object of study of both the academic and the exhibition/museum worlds.
This chapter is a programme of sequences woven together to alternate images of the Centre's functioning and activities with archive materials, creating a manifesto, a way of seeing culture as a space of enjoyment, criticism and reflection that is based on exchange, memory and exhibition.