Event
SOY CÁMARA. EL PROGRAMA DEL CCCB (I'm a Camera. The CCCB's Programme) (29)
In my bedroom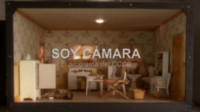 Enlarge image
Today, the act of communication calls for a curious paradox: being alone. Many of today's common socialization rituals, such as personal ads, were until recently for people who were lonely. Now they take place in a variety of settings, from adolescents' bedrooms to smartphones connected on the Metro and furtive tablets in board meetings.
Ever since private life adapted to industrial societies, our conception of what is intimate, private and public has been subject to constant transformation, according to architecture, urbanism, social and cultural vicissitudes, and progress in communication technologies. This programme looks at the revolution this has brought about in collateral issues such as vanity, egos, blogs and particularly how they have helped to blur stereotypes and imagine new areas of identity and expression. In short, we'll be looking at the history that has brought us from the intimist diary of the 19th century to the 21st-century blog.
We interview Antoni Marí, who talks about the invention of privacy in the 19th century, and Rosana Antolí, who presents the Internet as an opportunity to create new tribes. We'll also be using the CCCB's archive materials from the cycles of talks on Intimacy (Debates 2011) and Our Life on the Net (ICI 2012).
Script and direction: Andrés Hispano and Félix Perez-Hita