Event
Saturday 02 April, 18:00
SOY CÁMARA. The CCCB's Programme (9)
# Apropiaciones (Appropriations)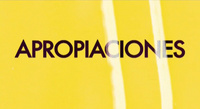 Enlarge image
Next Saturday, April 2th, at 6 pm, the new episode of SOY CÁMARA – EL PROGRAMA DEL CCCB (I'M A CAMERA - THE CCCB PROGRAM), will be aired on Spanish Television's Channel 2, "La 2".

After the initial broadcast on TV, the programme will also be available for viewing on the websites of 2 TVE and the CCCB.

"Apropiaciones" (Appropriations), directed by Juan Bufill and the CANADA group, focuses on works of art made of found or appropriated material, from Duchamp, Warhol and Guy Debord to the latest experimental video and cinema.
"Apropiaciones" brings together over sixty fragments of audiovisual works –the majority of which were shown at Xcèntric, the CCCB's regular experimental cinema program– along with statements by artists and theorists from different countries, including Peter Tscherkassky, Harun Farocki, Eugeni Bonet, De Val and Antoni Pinent.
In twelve brief chapters, it offers different examples of audiovisual collage and original pieces made from third-party material, above all in the sphere of experimental cinema, as well as declarations by some of the artists or directors. The episode fosters reflection and debate on such issues as the legitimacy of using third-party material in a work of art, conciliation of copyright law with the free circulation of images, the distinction between creative appropriation, "audiovisual quotation", plagiarism and similar terms.
Apropiaciones" is the first collaboration between CANADA, a group known internationally primarily for its video clips, and Juan Bufill, creator and scriptwriter for the TV3 "Arsenal" program (1985-1987).