Event
Friday 08 February, 20:00
Presenting ANIMAC 2013 at the CCCB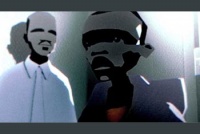 Enlarge image
This year's Animac, the International Animation Film Festival of Catalonia, is celebrating the creative potential of documentary animation. For this reason, for its presentation in Barcelona it will have a very special guest: Hanna Heilborn (Sweden), a documentarist who has created her best work using animation in collaboration with David Aronowitsch.
Heilborn will give a talk explaining her interesting working process, illustrating it with examples. This will be preceded by the presentation by Festival director Carolina López of the programme of Animac 2013 and the screening of Heilborn and Aronowitsch's short film Slavar.

Slavar (Slaves)
Hanna Heilborn and David Aronowitsch, Sweden, 2008, 15'
Slavar denounces the Sudanese government's unacknowledged practice of using women and children as slaves, the terrible collateral effect of a long fratricide war with almost no press coverage, which politicians preferred to forget. The film is based on a brutal interview dated 2003 with Abuk (9) and Machiek (15), a little girl and her brother who were used by the state-subsidized militia in Sudan and freed thanks to an organization led by James Aguer. In this film, animation is used as a shield to protect identity, particularly valuable when those featured in the documentary are children.
Slavar is a short film co-directed by Hanna Heilborn and David Aronowitsch, and is the second in a series of animated documentaries that centre on the difficult situations affecting children all over the world. The trilogy includes another two short documentaries: Gömd (Hidden) and Sharaf.
Slavar won the Crystal Award at the Annecy International Animation Film Festival and the Special Jury Mention at the Berlinale.
Hannah Heilborn
1968. Heilborn studied at the New York Film School and Sweden's Institute of Drama. She is a director, writer, playwright and teacher of animation, always taking the documentary as her basis. She lectures at numerous design schools. Other of Heilborn's works are Big Mike, the story of an Aboriginal boy who goes back to his roots, and Tjejsnack (Girls Talk), a trilogy of short documentary films about the lives of adolescents and their experience with drugs, shown on MTV.
Animac 2012 will include Sharaf, Heilborn and Aronowitsch's latest film about a young Moroccan who arrives in Spain in a small boat, as an example of recent documentary film made using animation.

ANIMAC 2013. Through Reality
Animac 2013 will be held in Lleida from 28 February to 3 March. Four intense days of screenings, talks, special presentations, workshops and other activities—a must for all lovers of art and entertainment.
The International Animation Film Festival of Catalonia, organized by Lleida City Council with the title "Through Reality", explores the creative possibilities of animation in non-fiction, offering a source of inspiration for producers, documentarists and animators in a field that presents interesting prospects for creation.
In addition to its regular programme, Animac 2013 offers screenings and presentations that look at real life in animation, with particular attention to recent productions and work currently under way.

ANIMAC 2013
From 28 February to 3 March
La Llotja • Lleida
More information: www.animac.cat
Credits
Organizer

With the collaboration of