Event
Saturday 3rd: 11.30 pm.
Sunday 4th: 12.25 pm.
Poetry-clips vol.1
Wolf Hogekamp i Bas Böttcher, Germany, 2003, 30', OV.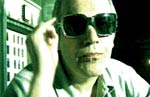 Enlarge image
This is a sample of the work that Hogekamp and Böttcher have been carrying out since the year 2000 in the field of the German spoken-word. A new literary genre, the result of the permeability between such different artistic disciplines as video and oral literature.