Event
Sunday 24 May, 18:30
Pasolini and art film: La Rabbia (1963-2008)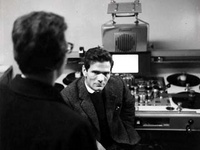 Enlarge image
La Rabbia is a reassembled film that Pasolini made from ninety thousand metres of cinema news material. «Another essay and not a story», says the same Pasolini, «with my political reasons and my poetic feeling» about fear, rage and anguish, on the ancient world and the future world, on the beautiful Marilyn Monroe and the economic miracle, with Giorgio Bassani's voice of poetry and Renato Guttuso's voice of prose. Although the film is considered a masterpiece and pioneer in art film, during the assembly the producer, fearful of being polemical, decided to turn the film into a diptych by taking the world seen from the left (Pasolini) and adding the counter-point of a view from the right (Guareschi). Forty years on, Giovanni Bertolucci takes up not the reconstruction but rather the recreation of the first part from Pasolini's cards and texts: he adds sixteen minutes of brand new material and an epilogue to Pasolini's original assembly.
La rabbia di Pasolini. Ipotesi di ricostruzione della versione originale del film, Pier Paolo Pasolini/Giuseppe Bertolucci. Italy, 1963/2008, 83 min, 35 mm
Included: La rabbia (1963, 53 min), the introduction and the material assembled by Bertolucci, interviews with Pasolini and a musical number.
Participants

Director:

Themes