Event
Saturday 21 October, 16:00
Panajedrez Borgiano
Various authors, Spain, 2002, 32', OV.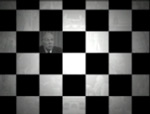 Enlarge image
Audiovisual created for the exhibition Cosmopolis. Borges and Buenos Aires (CCCB, 2002), and based on some of the main interviews of Borges by
television media during the last decades of his life. Borges according
to Borges: a pan-chess where the writer analyses the reasons
for his fame, debunks myths about his work, gives opinions on the
literatures of the world, explains his influences and vindicates the
cosmopolitan ideal and his unwaning love for Buenos Aires.