Event
Screenings from 19:00 to 23:00
OVNI archive is available from 18:00
OVNI. In Limbo: falling and flying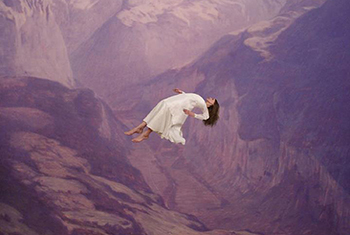 Enlarge image
The OVNI video festival is back at the CCCB. For four days, the Centre's foyer hosts a programme of independent video and documentary art, becoming a space for free expression and reflection, a limbo of criticism of contemporary culture and society where the pressure on social rights and liberties is constant.
In the face of a media apparatus that practises a totalitarian occupation of language, OVNI proposes a selection of films such as Fall & Winter, a survival guide for the 21st century by Matt Anderson, an epic journey across the USA in search of the causes of the expansion of global crisis; Detroit Ville Sauvage, a documentary by Florent Tillon about the ability of the inhabitants of the ghost town of Detroit to reorganize themselves; De chair et de lait by Bernard Bloch, 16 extraordinary stories about the intertwined destinies of the cow and human beings, and Antibiografies by Khalid Ghali, about the lives of homeless people in Barcelona.
OVNI ARCHIVE: throughout the OVNI festival, the archive will be available for consultation in the foyer of the CCCB, every day starting at 18:00.
See the full programme here.
Credits
Organizer

Other credits:

With the collaboration of: CCCB, Generalitat de Catalunya, Oficina de Suport a la Iniciativa Cultural (OSIC), ICUB, Videolab, Cintex, HP