Event
5 p.m. to 12 midnight, from 30 January to 3 February 2008 Simultaneous screenings in the Foyer and Auditorium. DVD, Catalan subtitles Interventions: at 10 p.m. in the Foyer Consultation of the archives from 12 midday to 11 p.m., in the Foyer
OVNI 2008
Exodus. The Margins of the Empire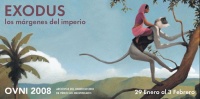 Enlarge image
"Open your eyes and look within. Are you satisfied with the life you're living? [...] So we gonna walk-all right-through de roads of creation: we the generation (tell me why!) trod through great tribulation."

Bob Marley, Exodus


OVNI - the Observatory Archives present a critique of contemporary culture and society, using a variety of strategies: independent documentary, video art and mass-media archaeology, to name just some. During the screenings, 20 consultation units will provide visitors with access to the Archive's entire holdings, over 2000 audiovisual documents.

OVNI 2008 will be screening a series of videos that offer initial reflection on marginalization and crossing over, and different forms of exodus-personal and collective, physical and psychical. It will present different forms of marginalization and exploitation: the oppression of power (workers in export factories in China, Palestinian day-labourers working illegally in Israel) and views that look beyond the propaganda/counter-propaganda dialectic of areas of armed conflict (South America, Chechnya, Lebanon, Iraq, Darfur, Afghanistan, etc.).
It also presents reflection and views of other realities and forms of organization that spring up on the fringes: self-organization among homeless people, indigenous communities in Ecuador and Colombia, associations of transvestites in India, ancient heterodox traditions and their rituals, self-management collectives in Barcelona and groups of deserters in the USA, along with stories of dreams and inner revolution, search and exodus...
Credits
Organizer

With the collaboration of