Event
All sessions begin at 10 p.m.
Off the map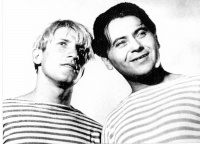 Enlarge image
21 August Tuesday

Aki Kaurismäki, Those Were The Days / 1991 / 6', These Boots / 1992 / 5', Happy Together (short fragment taken from: Total Balalaika Show / 1994 / 52')
A lunatic, melancholy-filled celebration of the light-heartedness of songs and cinema
Boris Barnet, U samogo sinego moria (By The Bluest of Seas) / 1936 / 70'
Barnet is a unique filmmaker, an island in Soviet cinema: his films are warm, happy and nostalgic. He was eschewed by the Soviet regime and admired by Tarkovski and Iosseliani. U samogo sinyego morya is the story of two friends, a woman and a fishing community kolkhoz on an island in the Caspian Sea. "A marvel full of admiration for existence, love, desire and fidelity" (Iosseliani).
22 August Wednesday
Kelly Reichardt, Old Joy / 2006 / 73'
Two old friends meet up to undertake a car journey to a hot spring in a forest. Mark is going to have a child and Kurt hasn't settled down yet. A sensitive and subtle road movie from the north of California, with music by Yo La Tengo. First prize at the Rotterdam festival.
23 August Thursday
Roman Polanski, Ssaki (The Mammals) / 1961 / 10'
Two men walk through the snow dragging a sled; their bodies seem to be about to dissolve into the white space. A vibrant piece of absurd humour.
Ermanno Olmi, Il tempo si è fermato (Time Stood Still) / 1959 / 83'
Olmi's first feature film is nearly a comic and humanist version of Chaplin's The Gold Rush: the story of an old worker and a young man in charge of guarding a mountain dam, in the middle of wintertime and isolated by the snow. A generational encounter.
Credits
Organizer

Support

iCat.cat

Sponsors