Event
Off Programme presents "After the Conflict"
Sessions of the 21st Barcelona International Women's Film Festival 2013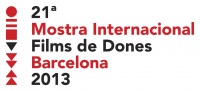 Enlarge image
As part of the 21st Barcelona International Women's Film Festival, Fora de Programa at the CCCB will be showing three documentaries directed by women about social conflicts.
Friday 24 May, 19.00- In uno stato libero, Paola Piacenza. Italy, 2012, 73'
This documentary presents the political and social situation in Tunisia in 2011 through the activity of the online television platform Zarzis TV, set up by three young people. The work presents the contradictions that followed the fall of the regime and the desire to promote free journalism. Presentation and talk by the director, Paola Piacenza.
Saturday 25 May, 18.00- Le libraire de Belfast, Alessandra Celesia. France/Great Britain, 2011, 54'
A reflection on the past of the city of Belfast and the effects of terrorism, told from different viewpoints. The director reconstructs the spaces that saw a conflict which affected generations.
Sunday 26 May, 18.00 - Palabras mágicas, Mercedes Moncada, Mexico-Guatemala-Nicaragua, 2012, 96'
Related in the first person, the film presents the political process of Nicaragua before and after 1979. Using archive images and personal memory, the director reflects on the failure of the Sandinista Revolution, from an emotional and poetic standpoint.
Organized by the CCCB and the 21st Barcelona International Women Film Festival.