Event
Tuesday 19 April, 19:30
OFF-PROGRAM: Presents PIG BUSINESS
A documentary by Tracy Worcester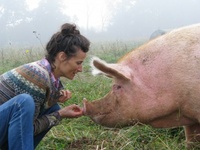 Enlarge image
Do you know the true cost of cheap meat? Can we as consumers change this situation?

The documentary reveals the dysfunctions of industrialized agriculture.


Pig Businessinfiltrates European and American farms and shows how these gigantic 'meat factories' abuse animals, place them in overcrowded pens, put small farmers out of business and pollute water and air, endangering the health of local populations and consumers.
Former workers at industrial farms explain that, due to overcrowding, the animals have to be treated with high doses of antibiotics. A local doctor working in an area near a factory farm tells how the workers and some of the neighbors suffer the effects of intoxication due to inhalation of the fetid combination of 400 gases from the basins where effluents are held, which are later used to fertilize fields.
The dismantling of rural economies, the corporate acquisition of small farms, environmental concerns (among others, the soy cultivated in the Amazon jungle used to feed livestock) and issues relating to the EU's Common Agricultural Policy (CAP) aid, human health and animal wellbeing are some of the topics the documentary deals with.
7:30 pm - Projection
Pig Business, UK, 2010, 56', English (original language version) with subtitles in Spanish
Director: Tracy Worcester
8:30 pm - Debate: The Failure of Industrial-Scale Agriculture, with Miren Etxezarreta (Professor emeritus of Applied Economy at the UAB and member of the TAIFA seminari d'economia crítica - critical economy seminar), Lluís Vila (Veterinarian and Agricultural Engineer specializing in ecological livestock farming), Jordi Ventura (Farmer and Veterinarian, advisor to pig farms), Lidia Senra (Representative of the Sindicato Labrego Galego - Galician Farmers' Union), Ferrán García (Veterinarios sin Fronteras). Moderator: Gustavo Duch (Coordinator of the magazine "Soberania Alimentaria, Biodiversidad y Culturas", www.soberaniaalimentaria.info)
Participants

Participants:

Themes