Event
Sunday 20 November, 18:30 & 20:00
Naomi Uman and the Time Machine
Double session with the presence of the filmmaker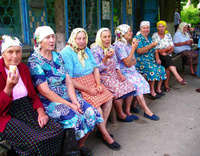 Enlarge image
In collaboration with La Casa Encendida in Madrid and L'Alternativa festival, Xcèntric presents two pieces by Naomi Uman from the series Ukrainian Time Machine, an art-life project that brings together the films she made during her years in a small village in the Ukraine. In Unnamed Film, Uman uses her Bolex and her personal style to document the everyday activities of the local people, and in Videodiary, an honest autobiographical portrait, she records the journey of her experience as an immigrant. Naomi Uman will be present at this double session.
Unnamed Film, Naomi Uman, Ukraine, 2008, 16 mm, 55 min.
Videodiary 2-1-2006 to Present (Work in Progress), Naomi Uman, USA/Ukraine/Mexico, 2011, video, 85 min.