Event
Wednesday 11 February, 19:30
LA FORTERESSE (The Fortress)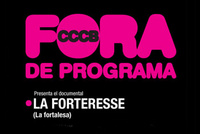 Enlarge image
LA FORTERESSE (The Fortress)

Documentary by Fernand Melgar, 2008, Switzerland, 100', Catalan subtitles

For the first time, a camera has made it through the gates of a detention centre for asylum-seekers in Switzerland. This documentary takes a close look at the dramatic lives of the people in this holding centre while they wait for the state to decide what to do with them.

Presentation by Fernand Melgar, director of the documentaryScreening of the documentaryDebate with public participation and Fernand Melgar, Manmen Castellano (Andalucia Acoge), Isabel Martínez (SOS Racisme) and Xavier Montanyà (Jornalist).


• Presentation by Fernand Melgar, documentary director
• Projection of documentary
• Debate with the presence of Fernand Melgar.
Men, women and children; gypsies, Togolese, Georgians, Kosovars or Colombians; all flow every week to the gates of Switzerland. They are fleeing war, dictatorship, persecution or climatic or economic crises. After a trip that is usually life-endangering, all these people end up in one of the five registration and processing centres, among which is Vallorbe. In this austere place of transit, subject to a regime of semi-arrest and forced leisure, the applicants wait for the Confederation to decide on their fate.

Sitting in front of them, some men and some women, also from diverse origins, organize the reception of the applicants and their stay. These are the people that must carry out the difficult task of applying the most restrictive asylum law in Europe, passed in September 2006, and deciding, from two statements, the legitimacy of their demands. Among this staff and the applicants there are exchanges of looks, sometimes condescending, sometimes distrustful, often questioning and also quick. The film shows the cultural divide and the difference in status, between those who take the decisions on one side and the applicants on the other, which is an everyday reality.
THE FORTRESS submerges us into the heart of this daily selection of human beings. An old luxury hotel surrounded by barbed wire; access to the centre with a camera was only authorized after long negotiations with the authorities. Here is an unedited process that permits us to show frankly, and with deep respect, small pieces of destinies and the difficult exchanges that mark life at the centre.
Documentary produced by Climage, an association of independent producers who, since 1985, have been making compromising documentaries about society, culture and history.
Information
La forteresse, Switzerland, 2007, 100', 35 mm, VOSC
Direction: Fernand Melgar