Event
Tuesday 27 October, 20:00
JAVIER REBOLLO presents his latest film, LA MUJER SIN PIANO (Woman without piano) by Javier Rebollo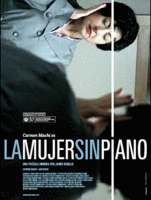 Enlarge image
The first session of FILA ZERO in the 2009-2010 year features one of the most outstanding and promising film directors of the new generation.

JAVIER REBOLLO presents his latest film, LA MUJER SIN PIANO (Woman without piano) starring Carmen Machi. This film, which has not yet been released commercially, was recently awarded the Prize for the Best Director at the Donostia-San Sebastian Film Festival.

Javier Rebollo (Madrid, 1969), known for his brilliant work in the field of short films, made his debut in 2006 with Lo que sé de Lola. With his second film, La mujer sin piano, this defender of a rigorous and highly personal form of cinema continues to explore the freedom of the creator to produce all kinds of cinema, including the least conventional.
La mujer sin piano recounts 24 hours in the life of Rosa, a Madrid housewife who tries to escape the monotony of her everyday life by means of an escape that is doomed to failure. Carmen Machi uses a completely different register to the usual, based on the silence of words and the sound of heels, to draw the portrait of a woman who withdraws into memories.

Original title: La mujer sin piano
Director: Javier Rebollo
Country: Spain
Year: 2009
Date of release: coming soon
Duration: 95 min.
Cast: Nadia de Santiago, Carmen Machi, Jan Budar, Tomás del Estal, Esperanza de la Vega, Pep Ricart, Luis Antonio Espinosa
Screenplay: Lola Mayo, Javier Rebollo
Distributor: Avalon Productions
Producer: Avalon Productions, Lolita Films
Credits
Organizer

Fundaciˇ ESCAC

With the collaboration of