Event
Thursday 26 March, 17:30
I.O.U.S.A.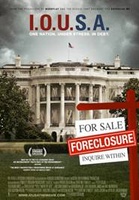 Enlarge image
A review of the financial situation in the United States, which, since its foundation in 1776, has been racking up a national debt that is now in excess of 10 trillion dollars.
Since its foundation in 1776, national debt at the United States has been constantly increasing. During the Reagan Administration the situation worsened, and for the first time in US history the national debt reached alarming heights in peacetime. When Bush senior declared "No new taxes!" in 1988, the situation didn't get any better. Despite government attempts to keep the debt under control, the United States is still saddled with a debt in excess of 10 trillion dollars. This documentary helps to explain the structural problems of the current financial crisis and includes interviews with Alan Greenspan, Paul H. O'Neill, Robert Rubin and Paul Volcker.
Participants

Directed by Patrick Creadon

Themes

Space at the CCCB

The Auditorium

Links
General information
Space at the CCCB
The Auditorium
NOW opening times:
Wednesday March 25, open from 5 to 9.30 pm
Thursday 26 through Saturday 28, open from 11 am to 10 pm
Free admission to all activities
Registration required in advance for workshops. Tel: (+34) 933.064.135. E-mail: seducatiu@cccb.org. CCCB reserves the right to modify the schedule for reasons beyond its control.
CCCB
Montalegre, 5. 08001 Barcelona. Tel.: +34 933 064 100. www.cccb.org/now