Event
Friday 30 November, 17:30
Invisible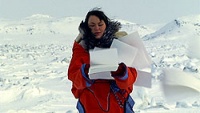 Enlarge image
Dirigido por Roz Mortimer, 2006, 63 ', VOSC


A hypnotic journey into the heart of the Inuit community around the North Pole, where breast milk has been found to contain high concentrations of PCBs. This highly pollutant chemical is no longer manufactured in the United States, but Inuit mothers transmit it to their children through their consumption of such traditional foods as seal meat. If they cease to eat such foods or to breastfeed their children, much of their cultural heritage will be lost.
Miquel Ortega, co-coordinator of the magazine Ecologia Política, co-organiser of the "No et mengis el món" campaign, and member of the Observatori del Deute en la Globalització and the environmental innovation consultancy firm ENT - medi ambient i gestió p resents the documentary film.
Participants

Director:

Themes

Space at the CCCB

The Auditorium
General information
Space at the CCCB
The Auditorium
Venue: Centre de Cultura Contemporània de Barcelona (CCCB)
Montalegre, 5. 08001 Barcelona. Tel. (+34) 93 306 41 00. http://www.cccb.org/now/ang
Dates: 29 November - 1 December 2007
Times:
Thursday, November 29, open from 5 to 9.30 pm
Friday, November 30 and Saturday, December 1, open from 11 am to 10 pm
Free admission to all activities
Advance registration for workshops: Tel. (+34) 93 306 41 35. Email: seducatiu@cccb.org.
The CCCB reserves the right to change the programme due to reasons of force majeure.
Within the framework of Anella Cultural project, the following entities are participating in NOW: the Institut Municipal d'Acció Cultural in Lleida; the Museu de Granollers in Granollers; the Teatre Principal in Olot and the Centre d'Art Cal Massó in Reus.