Event
Saturday 27 March, 12:00
Hello Africa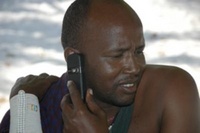 Enlarge image
The African continent has been witness to the explosion of numerous small businesses created around the mobile phone industry. The boom of this device in Africa is changing habits, cultural values and social models very fast, and this documentary, produced by the Austrian NGO ICT4D, shows it through the stories of different characters from Zanzibar.
Participants

Director: Anders Bolin, producer: Martin Konzett, consultant: Martin Tomitsch

Austria, 2008, 42'15" OVSC

Themes

Space at the CCCB

The Auditorium
General information
Space at the CCCB
The Auditorium
NOW opening times:
Thursday March 25th through Saturday 27th, open from 11 am to 10 pm
If you have any questions or comments, please contact now@cccb.org
Free admission to all activities
Registration required in advance for workshops. Tel: (+34) 933.064.135. E-mail: seducatiu@cccb.org
CCCB reserves the right to modify the schedule for reasons beyond its control.
CCCB
Montalegre, 5. 08001 Barcelona. Tel.: +34 933 064 100.
www.cccb.org/now