Event
Global Screen: screening of the videos taking part in the exhibition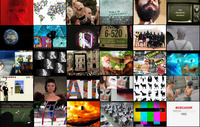 Enlarge image
"Global Screen" is an exhibition that is growing on the Internet thanks to the contribution of creators who are submitting their videos on the impact of screens on politics, advertising, history, games, sport, excess and surveillance. The on-site exhibition opens on 24 January 2012, including the viewpoints of all the users who've taken part in the project.
Coinciding with the countdown to the exhibition opening, the CCCB is opening a screening space in the foyer of the CCCB to present the audiovisual pieces submitted by users—over 100 videos about the power of the screen in today's society.
From 20 December 2011 to 10 January 2012 (11 a.m. to 8 p.m.), all the videos in the counter field of "Global Screen" will be projected without interruption on a screen in the foyer.