Event
Screenings at 22:00h. DJ sessions at 20:00h. and 23:00h.
Gandules'04
XinacittÓ repesca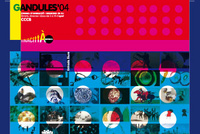 Enlarge image
Gandules'04 gives you a second chance to catch the best of a festival that defines itself as rebellious, discerning, beautiful and bold, which for the last two years has taken to the streets of the Raval. We're talking about Xinaccità, devoted to animated art-house film and organised by the collective La Selección.
Every night, innovative shorts dating from 1926 up until the present day will present the work of directors such as Jan Svankmajer, Jonathan Hodgson, José Antonio Sistiaga, Stuart Hilton, Zbigniew Rybczynski, Shynola, Hans Richter, Len Lye, Priit Pärn, Segundo de Chomón, Koji Yamamura and Raoul Servais.
And before and after every screening, DJ Zoona (3, 4 and 5 August); DJ Xavo (10, 11 and 12 August) and DJ Roger (17, 18 and 19 August).