Event
Fora de programa Presents VES. VILLA EL SALVADOR by Carola Rodríguez Sánchez
Session part of the 20th Barcelona International Women's Film Festival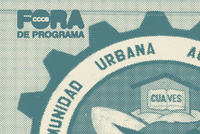 Enlarge image
7 June, projection at 7 p.m.
VES: Villa El Salvador by Carola Rodríguez Sánchez, Spain, 2011, 62', OV
Production: Bernat Manzano; Photography: Àlex Sans;
Sound: Gerard Tàrrega;
Editing: Alfredo Ruiz;
Music: Sara Pérez Fontán and Pau Julià
People who lose their houses, entire communities obliged to abandon their homes due to natural disasters... These compulsory moves make the limitations in our human right to have access to housing clear, but it can also lead to new communities with self-management models that end up becoming a challenge to the established order.
On 31 May 1970 an earthquake measuring 7.8 on the Richter scale set off an avalanche of snow from the peak of Huascarán, burying the city of Yungay in Peru. The most devastating seism in Peru's history caused some 80,000 deaths and left hundreds of thousands more homeless. On 27 April 1971, some 80 families armed with nothing more than sticks and rugs took possession of the lands of Pamplona, giving rise to one of the most important social mobilisations for the right to housing.
VES, Villa El Salvador documents the history of this city that sprang up in 1971 in the middle of a desert, in no-man's land, to the south of Lima. This district, which was built and developed with complete self-management for over three decades, now is home to over 400,000 people. Its example of peaceful co-existence in solidarity was recognised and honoured in 1987 with the Prince of Asturias Concord Award.

After the screening, a debate:
Self-managed communities, defying power
With Carola Rodríguez Sánchez, director of the documentary, Dona Gamarra P., secretary of the organisation Popular Women's Federation of Villa El Salvador and David Bravo, Architect and Secretary of European Prize for Urban Public Space.

Saturday 9 June at 5 pm

Session within the 20th Barcelona International Women's Film Festival:
SCOPE OF THE TERRITORY: Three films that document different citizen, institutional and financial intervention processes in different regions of Catalonia.
• 5.00 pm: Per Amor a la Ciutat (For Love of the City), Carla Bisart Molins, Noelia Bonet and Sonia Garcia Guillen, Spain, 2011 (35')
• 5.45 pm: Encaixonats (Boxed), Marta Saleta, Spain, 2011 (52')
• 6.45 pm: Espui, Anna Soldevila, Spain, 2011 (61')

The producers will attend the screening