Event
Tuesday 30 November, 20:00
FILA ZERO: Mapa de los sonidos de Tokyo (Isabel Coixet, 2009, 109 min)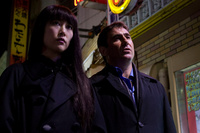 Enlarge image
NEW SEASON OF FILA ZERO
Once again, Fundació ESCAC, with the collaboration of the CCCB, is responsible for organizing the latest in its series of what are now established film sessions known as FILA ZERO. In this second season in the auditorium of the CCCB in Barcelona, FILA ZERO continues with its aim of bringing students and professionals of the medium the most interested and varied cinema being made in this country, and giving them the opportunity to meet its main movers and talk to them about their work.
The first session of FILA ZERO in the 2010-2011 season is headed by one of Spanish cinema's best-known directors, ISABEL COIXET, who'll be presenting her latest work, MAP OF THE SOUNDS OF TOKYO, released last year.
Presenting Isabel Coixet is both an easy and a difficult task. Everyone has heard of her and knows who she is— after all, she has been making films for over 20 years. But in this talk with her, we'll be trying to discover the other, less-known Isabel Coixet, the one hiding behind her public persona. This is a great opportunity to speak to a filmmaker with a truly exceptional professional career.
Participants

Director:

Themes