Event
Tuesday 18 January, 20:00
FILA ZERO: Elisa K (Judith Colell and Jordi Cadena, 2010, 85')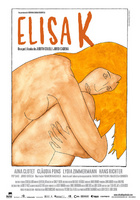 Enlarge image
The screening of the film Elisa K (Judith Colell Jordi Cadena, 2010, 85') will be followed by a talk with the audience.
On this occasion, we'll be joined by two directors, as the film in question, ELISA K, is co-directed by JUDITH COLELL and JORDI CADENA.

Presented at the Donostia-San Sebastian Film Festival in 2010, the film won the Special Jury Prize in recognition ofthe risk involved in an experiment which, while considering the public, also represents a whole new way of seeing cinema.

Elisa K is a free yet faithful adaptation of the novel by Lolita Bosch, Elisa Kiselja. The story's twofold time structure, based on the childhood of Elisa K and a period some years later, meant that the film could be constructed in the form of a diptych: childhood/ youth; black and white/colour; third person narrative/first person narrative; contemplative cinema/cinema of passion. Jordi Cadena is responsible for the part that shows Elisa as a child and tells us what happened to her when she was 11, and Judith Colell meets her 14 years later, when a chance happening sparks a memory and plunges her into a spiral of violence.

This is a great opportunity to catch up with the film for anyone who missed it first time round. It is also a chance to talk to the two directors about working together, making an adaptation, combining styles and many other aspects.
Participants

Director:

Themes