Event
Tuesday 08 March, 20:00
FILA ZERO: Cruzando el límite, Xavi Giménez, 2010, 90 min.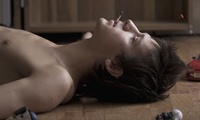 Enlarge image
The film will be presented by Núria Vidal (ESCAC) and its director, Xavi Giménez. The screening will be followed by a discussion with the audience.
Cruzando el límite is the first film to be produced by Xavi Giménez, one of the best contemporary directors of photography. Based on real-life facts, it is set in a rehabilitation centre for problem youths that uses extreme methods bordering on torture. Rebellious adolescents, desperate parents and frustrated teachers are portrayed by powerful images that shun any attempt at naturalistic representation.
Participants

Director:

Themes