Event
Tuesday 23 February, 20:00
Fila Zero: 53 días en invierno (53 days in winter) by Judith Colell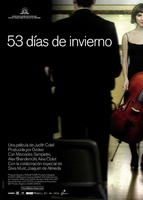 Enlarge image
The film will be presented by Núria Vidal (ESCAC) and the director herself. The screening will be followed by a discussion between the filmmaker and the public.
Session four FILA ZERO WITH JUDITH COLELL

It will feature film director JUDITH COLELL, who will be presenting her film 53 días en invierno, released in 2006 with a great cast headed by Mercedes Sampietro and Alex Brendemühl.
Judith Colell spent many years as a director's assistant, to her partner Jordi Cadena among others, and her directing debut came with an episode of the collective film El domini dels sentits (1996). In 10 years, this young director has put together a short filmography with its own marked personality, in which 53 días en invierno is its high point to date.
To date, because one of the reasons for including her in a Fila Zero session is the fact that she has just finished work on a very special film, Elisa K, made jointly by her and Jordi Cadena, in an experiment that combines times and styles to adapt a novel by Lolita Bosch.
Despite being a real surprise on the Catalan and Spanish film scene, 53 días en invierno failed to attract the attention it deserved. This is an opportunity to review it and to talk to its director about her experience and how she views cinema.
53 DÍAS EN INVIERNO, de Judith Colell (2006, 92 min)