Event
All sessions begin at 10 p.m.
In transit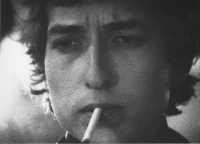 Enlarge image
14 August Tuesday

Bennett Miller, When The Deal Goes Down (video clip Bob Dylan) / 2006 / 5'
In the style of a 1950s home movie, a lyrical portrait of Scarlett Johansson for one of the songs on Modern Times, the last album by Dylan.
D.A. Pennebaker, Don't Look Back / 1967 / 95'
In spring 1965, Bob Dylan was 25 years old and at the peak of his fame. His manager, Albert Grossman, wanted to make him the great cultural attraction of the era and entrusted Pennebaker with filming his tour around England. Pennebaker was a young filmmaker who had designed one of the first portable camera and sound systems. His light filming technique allowed him to capture everything surrounding the tour - the parties in hotels, the train journeys, the negotiation of contracts, the hysteria of the fans - and produce a gritty portrait of the musician.
16 August Thursday
Nagisa Oshima, Shonen (Boy) / 1968 / 97'
When Oshima produced Shonen, he was the great filmmaker of the Japanese new wave, of formal ruptures and thematic transgressions. In Shonen, however, he opted for narrative transparency to produce his most emotive film. Based on a news article, Oshima tells the story of a family that forced its ten-year-old son to fake traffic accidents in order to claim financial compensation. It is a film of intense colours and measured settings, a journey through the passing of the seasons in the Japanese archipelago and through the Japanese mentality.
With the collaboration of: National Film Center (The National Museum of Modern Art), Tokyo.
Credits
Organizer

Support

iCat.cat

Sponsors