Event
Saturday 13 June, 19:00
Documentary ROUGH CUT by Firouzeh Khosrovani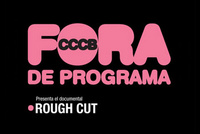 Enlarge image
Rough Cut is a short documentary that reflects on cultural impositions in Iran, inscribed in the bodies of women. This constitutes a conflictive area within the patriarchal order.


Since the end of the 80s, the guardians of moral in Iran drive around the city controlling that the Islamic dress code is respected. Rough Cut portrays how, in the name of decency and virtue, the female mannequins in shops must eliminate any sign of femininity. Women's bodies and sexuality are problematic objects that must be approved and governed by the country's moral institutions.
After the film, a debate:
The imposed body: a reflection on women in Iran.
With Firouzeh Khosrovani, Iranian director and Shahram Kholdi, Graduate Teaching Fellow and PhD candidate in Middle Eastern Studies at the University of Manchester.

Moderator: Rosa Maria Calaf, journalist and President of the Barcelona International Press Centre.
INFORMATION
Rough Cut, Firouzeh Khosrovani, Iran, 2007, 22', Original version, Catalan subtitles
Photography
: Abbas Kowsari.
Sound
: Amir Hossein Ghasemi.

Montage
: Bijan Mirbagheri, Kayvan Jahanshahi.
Music
: Farhad Assadian
Credits
Organizer

With the collaboration of

Drac MÓgic