Event
22 December: 7.30 p.m.
23, 30 December and 2 January: from 12 a.m. to 6 p.m.
27, 29 December and 3, 8 and 9 January: from 12 a.m. to 8 p.m.
24, 26, 31 December and 5, 6, 7 and 10 January: from 12 a.m. to 2 p.m.
Denominaciķ d'Origen (DO) - 5th Anniversary
Projections at the CCCB / december 2009 and january 2010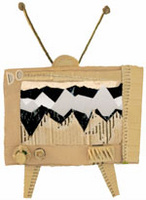 Enlarge image
The project Denominació d'Origen (DO) of the Network of Local Televisions (XTVL) is now 5 years old. During this time, the project has co-produced and emitted 113 series produced by up and coming directors and producers with transgressive and free formats and content. The CCCB Auditori will show a selection of fiction, documentary, video creations and animation productions from these 5 years of DO.
Tuesday, 22nd December at 7:30 pm
PRESENTATION EVENT with the presence of:
Marc Melillas, General Director of XAL; Lau Delgado, Creator of the DO project; and Pere Gibert, Coordinator of the DO project, accompanied by directors and producers involved in these five years of DO.