Event
The 19th at 5.40p.m.
The 21st at 6.40p.m.
Carta de Franz Kafka a Felice Bauer, 14 de noviembre de 1912
Gonzalo de Lucas, Spain, 2005, 8', OV.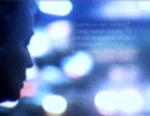 Enlarge image
Between September 1912 and October 1917, Franz Kafka sent half a
thousand letters, postcards and telegrams to Felice Bauer. This piece
uses a brief fragment of a body of correspondence containing over 750
pages. A runner-up in the Literature in Images Prize awards organised
by Llibreria La Central and Llibreria 22.
Participants

Director:

Themes