Event
BAFF 2010
12th Barcelona Asian Film Festival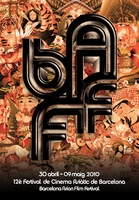 Enlarge image
The objective of the BAFF is to screen a selection of the newest film productions from Asia, which in recent years have proved to be the most innovative productions in the world.
The BAFF is the only festival of its kind in Spain, and one of the most highly respected Asian film festivals in Europe. Since it began in 1999, the BAFF has screened the best independent Asian films and attracted one of Barcelona's largest and most enthusiastic audiences.
The screenings will be divided into several sections: the Official competition section with recent Asian productions; the Asian Selection, an overview of the best recent films produced in Asia; D-cinema, cutting edge, experimental digital cinema; Nippon Connection, video and animation screened in collaboration with the Japanese festival Nippon Connection in Frankfurt am Main; and Focus, a section dedicated to a particular cinematography, filmmaker or period.
Films in the Official sections compete for five BAFF awards: the Golden Durian to the best new director, the Cinematk Award for distribution, the D-Cinema Award to the best film shot on digital media, the Audience Award and the Netpac Award.
Programme films: http://www.baff-bcn.org/es/listado-peliculas
Credits
Organizer

Other credits:

With the collaboration of: Institut de Cultura de Barcelona, ICIC, AECID, Casa Àsia, Ministerio de Cultura, KOFIC, Japan Foundation and CCCB.