Event
Tuesday 08 February, 20:30
AVISTAMENT OVNI
As a preview of the des_Realidad project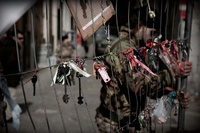 Enlarge image
As a preview of the des_Realidad project, the Archives of the OVNI Observatory present:
DRAQUILA L'Italia che trema, by Sabina Guzzanti, 90 min., Spanish subtitles, Italy, 2010
Why do the Italians vote for Berlusconi? Virulent propaganda, a sense of impotence on the part of citizens, the economic situation, illegal power games... a natural catastrophe: the town of L'Aquila devastated by an earthquake... There are many factors, which, combined, help to explain how Italy's young democracy has been subjugated. Draquila is a fractal of how to dismount a democratic state via the backdoor.
More information: www.desorg.org
Credits
Organizer

With the collaboration of